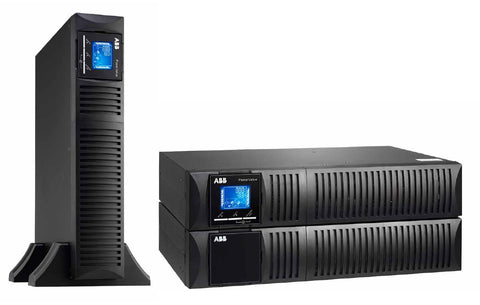 On Line Double Conversion UPS - ABB PowerValue 11RT G2 B, 3kVA 2U, Premium Series, Rack/Tower - Up to 3 x Servers or 1 x Server & 4-5 PCs
€1,30000 Double Conversion


Prices are excluding V.A.T. (19%)
---
---
Power Rating: 3000VA/3000W
Features and Benefits
ABB's PowerValue 11 RT G2 is a double-conversion online technology UPS that guarantees up to 10 kW of clean, reliable power for your critical single-phase applications. As well as maintaining power to your servers, point-of-sale terminals, workstation clusters, routers, switches, hubs and sensitive electronic equipment, the PowerValue 11 RT G2 also conditions incoming power to eliminate spikes, swells, sags, noise and harmonics. 
The PowerValue 11 RT G2 can be used as  a standalone UPS device or installed into a standard 19" rack configuration, with  connectivity options available for each. 
Three units of the 6 or 10 kW models can be configured in parallel to provide redundancy  or to increase the system's total capacity up to 30 kW. All units can be fitted with up to nine battery modules to extend runtime. 
• High reliability
• Low cost of ownership 
• Flexible design 
• Efficient service concept
• Scalable solution
• Easy installation and maintenance
• UPS configuration
• Online double conversion technology UPS
• Unity power factor (kW = kVA)
• Efficiency in online mode up to 95%
• Efficiency in eco-mode up to 98%
• Configurable in tower format or rack-mount
• Three 6 kVA and 10 kVA UPSs (max 30 kW per system) can be connected in parallel for redundancy or extra capacity
• Cold start
• Frequency-converter operation (50 Hz or 60 Hz)
• Interfaces: USB, RS-232, potential-free contacts, EPO
• Load segmentation (for PowerValue 11RT G2 1-3 kVA) 
• Autonomy: 8/15 minutes @ 75/50% load  
• Options
• Rack installation kit allows for easy mounting in standard 19'' rack
• Full-range connectivity: SNMP, ModBus (RS-485 and TCP/IP), environmental monitoring probe, relay card with I/O contacts
• External maintenance bypass
• 1U automatic transfer switch (ATS) (PowerValue 11RT G2 1-3 kVA)
• High capacity external battery modules (EBMs) to scale up the system runtime (a plug-and-play cable included to connect UPS and other battery modules)
• Two Years Warranty on Electronic Parts, One Year Batteries.  
Customers who bought this also bought
product-labels.labels-rounded .out-of-stock { padding: unset ! important ; max-width: 50px; font-size: 10px ! important; }